sets. props. drops.
and other wondrous things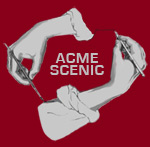 Acme Scenic Arts, a premier faux painting company, has delivered beautiful scenes and spaces for over 24 years.
Acme is fully equipped in the use of paint, Venetian plaster, metallic leaf and other media to create unique decorative effects for any and all surfaces; from walls, ceilings and floors to furniture, cabinetry, floor cloths, wall hangings, and murals on canvas.
We specialize in visual art production for advertising, entertainment, and home decorating industries. Our clients include Macy's, Target, advertising photo studios, film and video production companies, commercial venues, museums, theatres, and private clients.
Please contact owner
Nance Derby
for consultation on your project.